<< Retour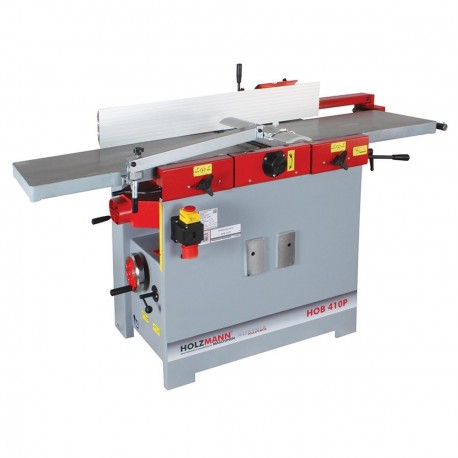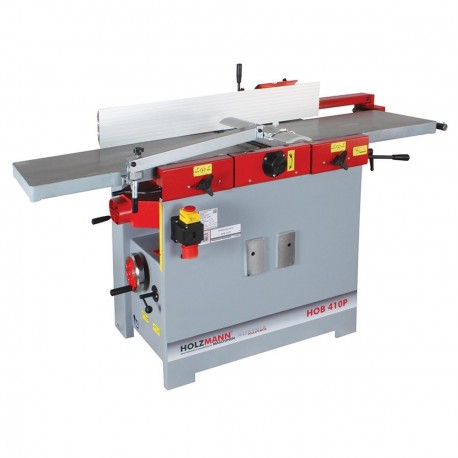  
Planer and thicknesser 410mm Holzmann HOB410P
Reference: HOB410P
Including €2.50 for ecotax
The Holzmann HOB410P 410 mm planer jointer is perfect for the professional, craftsman or regular individual looking for a safe and efficient machine.
Totally secure payment!

Be delivered where you want!

14 days to change your mind!
The Holzmann HOB410P planer jointer is a professional model!
This machine is dedicated to carpenters and handymen or amateurs aware of the quality of their machines. The long aluminum tilting perpendicular guide is fixed in such a way that it is not necessary to remove it in planing mode. This machine is powerful and stable which provides a high precision work. The large diameter of the central block with direct locking of the table is completed by a guide bar. Anti-friction rollers in the planing table for model HOB410P.
Important recommendation of Probois for many woodworking machines:
Before starting always check the inside of the machine, see if the belts are correctly fitted, tighten the bolts, grease the tables, etc. because the different transports cause vibrations.
Always use an extension cord of 2.5² wire size
The extension must not exceed 10 meters and must not be rolled
Provide an electric meter with special fuses starting machine of at least 20A
Have a standard electric meter with neutral and earth
Always work with a chip vacuum cleaner for your health and machine warranty
Always grease the cast iron tables with slip-wood
Always work with the protections in place
Do not work with blunted or dulled irons it can damage the mechanism, the advance of the planer, break the belt
General description of the Holzmann planer jointer HOB410P:
Rectified cast iron tables with vertical opening which makes it easier to change the planing position to the planing position.
Thick welded sheet metal frame.
The long tilting perpendicular aluminum guide is fixed in such a way that it does not have to be removed to go into planing mode.
These machines are powerful and stable which gives a high precision work.
The large diameter of the direct locking center shaft of the table is completed by a guide bar.
Delivered with mounted and sharpened irons
Technical characteristics of Holzmann planer jointer HOB410P:
Longwall length: 1800 mm
Thickness table width: 410 mm
Length of the planer table: 700 mm
Width. max. : 410 mm
Planing height max. : 225 mm
Height Reading: Mechanical Counter
Blade guide dimensions: 1100x155mm
Tilt guide inclination: 0 - 45 °
Sun of the tree 100 mm
Speed ​​of rotation of the shaft: 4500 rpm
Number of shoes: 4
Advance speed disengageable: 8 m / min
Sun advance rollers: 40 mm
Chip taking max. dew: 4mm
Chip taking max. planing: 5mm
Working height 1050 mm
Motor power 230V / 50Hz: 3.0 Kw (4CV)
Engine power 400V / 50Hz: 4.0 KW / 5.5CV
Sun suction nozzle: 100 mm
Overall dimensions: 1520 x 650 x 1050mm
Weight: 450 kg
This Holzmann HOB410P de-planing machine is a machine dedicated to professionals but also to amateurs looking for a quality material!
We recommend to consult us for the delivery time which can vary according to the Holzmann factory because it can be fast (under 5 days approximately) if it is available in their stocks up to 3 weeks if it is currently being sourced.
Good to know: Three-phase machines (3-phase, neutral and earth) are usually delivered without a plug. When mounting, be careful not to connect the wires upside down to avoid damaging the mechanical system! See the correct outlet: phase.
VERY IMPORTANT FOR DELIVERY!
The delivery of this very heavy planer jointer (more than 500 kg) requires a big truck with rags! The place of delivery must be provided so that the truck can approach easily. In the case of a delivery location which is difficult to access, we must inform us so that the factory can order a smaller truck but delivery charges will apply for this special request. Delivery charges must be paid before shipment.
The machine arrives in a wooden crate. Our prices do not include assembly or installation. It is advisable to have your electrical installation checked by a professional to make sure that it can support the power of this machine so as not to damage it by an unsuitable meter.
As you may have realized, this Holzmann HOB410P machine is the same as the Holzprofi DG410TS, here is the demo video:
16 other products in the same category: