<< Retour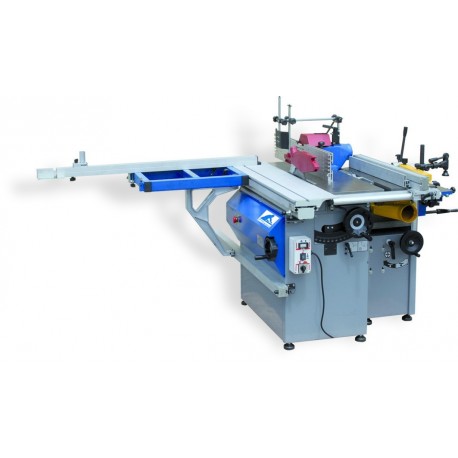  
Combined wood 7 operations 310 mm, "John the cabinetmaker" with carriage 1500 mm - 230V
Reference: HJCOMB305-6OP
Including €2.50 for ecotax
This combined wood joist cabinetmaker COMB305 is perfect for the discerning amateur looking for a complete and powerful machine. A high-performance 1500 mm long trolley comes with the machine.
Totally secure payment!

Be delivered where you want!

14 days to change your mind!
With

3 single-phase motors 230V/50Hz; 2Kw/2.5 HP for the dégau-plane, 2.2 Kw/3CV for the router and circular saw.



In addition, it is delivered to you with the 6th operation : the mortaiseuse + its kit move + the guide work to the tree + the guide strips !

Key definitions :
- Tables of dégau cast iron relévées allowing easy access to the function planing. Cover protection, offering optimum swarf removal. The table is maintained by a drum central steel and a guiding bar. The Dégau-Plane can be easily separable from the spinning saw to the needs of handling passing in a door of 600 mm.
Guide dégau larger sizes in alu allowing easy adjustment and precise 45° to 90 °. Bridge protection retractable providing security during the machining and an easy access to the 3 irons.

- The shaft 3 irons gives a surface finish that is remarkable. Training roller striated and latches the anti-rejection.

- Lips anti-noise series.Reduces noise by approximately 10 dB(A) Laeq.

- Trolley alu ras blade. Accurate guidance by steel balls on steel tracks.

- Insiceur adjustable, allowing a cut without splinters of the coated panels (laminate, melamine, veneer, plywood, etc.).

- Frame-trolley stable and stiff for the updated format of the large panels. Rule telescoping, with end stop to : Cut square, mitre cut from 0° to 45 ° and tennonage

Guide tab with tablet 300 x 245 mm, angle of -45° to 45 °, guide extendable up to 700 mm, is fixed on the carriage.

- Parallel Guide aluminium 2-positions : For cutting straight and angled cuts from 0 to 45°.

- Control panel is easily accessible and easy-to-use, guides ergonomic. The steering wheels are equipped with handles rabatable avoiding any gene.

- Guide spinning top, security bars, aluminium, roller, horizontal and vertical, ensuring optimal protection when machining.

- A Guide to working with the tree, allows it to work safely.

- Micrometric adjustment of the output guide.

- Mortaiseuse to co-conspirator, table in cast, adjustment easy and accurate. Chuck large capacity (Ø16mm) type WESCOTT.

Technical characteristics :

Dégauchissage - planing :
Long.total tables dégau : 1300 mm
Larg. tables dégau - plane : 310 mm
Long. table planing : 600 mm
Tilt guide dégau : 0 - 45°
Height of planing : 190 mm
Shaft diameter : 75 mm
Number of irons : 3
Feed speed selectable : 8 m / min
Making chips max. dégau : 4
Making chips max. planing : 3
Rotation of the shaft : 4000 t / min
Diameter of the suction nozzle : 100 mm
Working height : 1080 mm

Mortaiseuse :
Chuck type WESCOTT 0 - 16 mm - left Rotation
Race table vertical 80 mm
Race horizontal table 160 mm
Stroke depth-100 mm
Table Dimensions 368 x 161 mm

Spinning top - tenonnage :
Table size cast iron 1300 x 300
With extension in lacquered steel 1385 x 300
Dimensions work surface 1385 x 540
Shaft diameter 30 mm
Diameter of shaft 150 mm
Diameter max. tool in the housing 165 mm
Race / height of the tree 130 / 108
3 speeds by a pulley 3500 - 5500 - 7000 tr/ min

Saw :
Dimensions trolley aluminium 1500 x 240
Dimensions work surface 1500 x 840
Table size cast iron 1500 x 300
Dimensions frame-trolley 600 x 420
Rule extensible up to 2 m
Width-of-cut guide // 550 mm
Ras blade stroke 1400 mm
Blade diameter 250 mm
Diameter of the inciseur 88 mm
Cutting height at 45° and 90°, and 65 and 45 mm
Speed of the blade 4050 rpm
Speed of the inciseur 6300 tr / min

Total weight 445 kg
No customer reviews for the moment.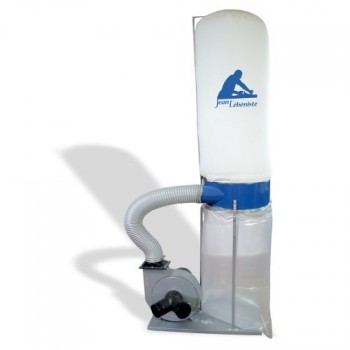 13 other products in the same category: