<< Retour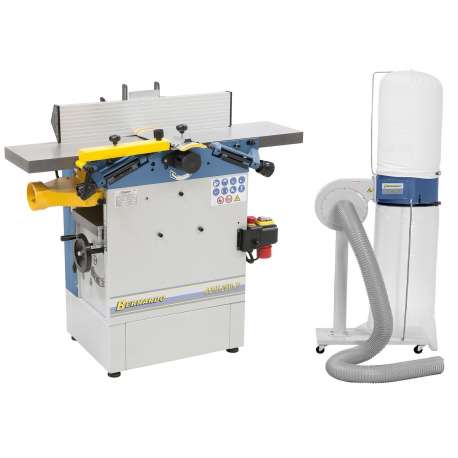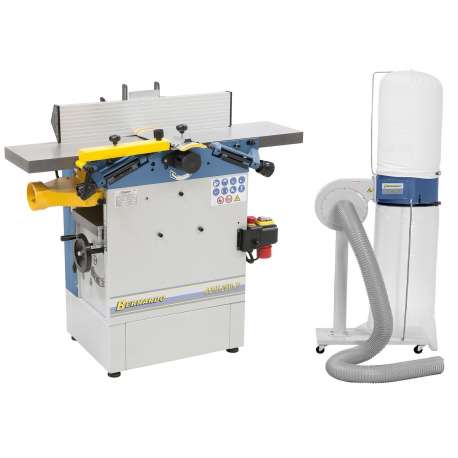  
Planer and thicknesser Bernardo ADH250P + dust collector DC230
Reference: BADH250P+DC230
Including €5.00 for ecotax (not impacted by the discount)
Planer thicknesser Bernardo ADH250P is an ideal machine for DIY enthusiasts.
Totally secure payment!

Be delivered where you want!

14 days to change your mind!
The planer thicknesser Bernardo ADH250P fits into the mid-range machine category!
Dedicated to the handyman and amateur anxious to afford a good material for an interesting budget, it is equipped with regrindable irons. It is therefore possible to equip this jointer with carbide irons, the recommended quality for hard and abrasive wood because it is much more efficient.
Important recommendation of Probois for many woodworking machines:
Before starting always check the inside of the machine, see if the belts are correctly fitted, tighten the bolts, grease the tables, etc. because the different transports cause vibrations.
Always use an extension cord of 2.5² wire size
The extension must not exceed 10 meters and must not be rolled
Provide an electrical meter with special fuses at least 16A starting
Have a standard electric meter with neutral and earth
Always work with a chip vacuum cleaner for your health and machine warranty
Always grease the cast iron tables with slip-wood
Always work with the protections in place
Do not work with blunted or dulled irons it can damage the mechanism, the advance of the planer, break the belt
The machine does not start? No doubt the chip ejector housing is poorly positioned on the planer jointer, it is a safety!
General description of the planer thicknesser Bernardo ADH250P :
The mechanically welded frame, rigid and robust, ensures a great stability.
Adjustable aluminum planing guide, 45º tilt, 3-irons blade shaft.
Swivel gray ironwork tables.
Automatic advance disengaged.
The chip collector allows a work environment free of dust and chips.
Planing passage in planing by simple pivoting with positioning of the suction valve.
Technical characteristics of planer thicknesser Bernardo ADH250P :
Planer:
Width of planing: 253 mm
Total length jointer tables: 1085 mm
Max. : 3 mm
Dimensions guidewire : 700x130 mm
Tilt guide inclination: 90 ° -45 °
Thicknesser:
Max planing width: 245 mm
Planing table length: 590 mm
Planing height max. : 185 mm (from 6 to 195 mm)
Max. : 2.5 mm on soft wood
Speed ​​in advance: 5.5 m / min
Output motor power S1 (100%) / S6: 1.5 kW / 2.1 kW
Voltage: 230V or 400V to choose
Rotation speed of the shaft: 4000 rpm
Diameter of the tree: 75 mm
Number of shoes: 3 (250x30x3mm)
Weight approx: 140 kg
Diameter of the suction nozzle: 100 mm
Planer thicknesser Holzmann Bernardo ADH250P comes with:
3 regreasable irons
aluminum planing guide
editing tools
tree protector
Dust collector DC230
16 other products in the same category: