<< Retour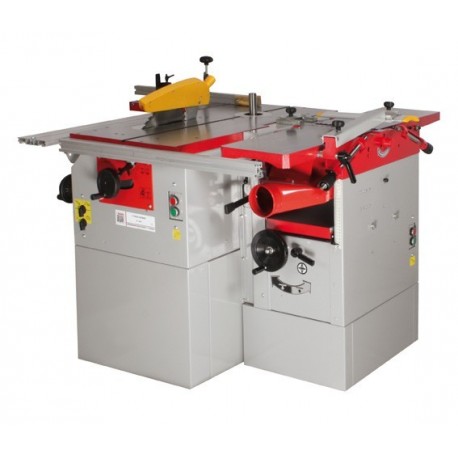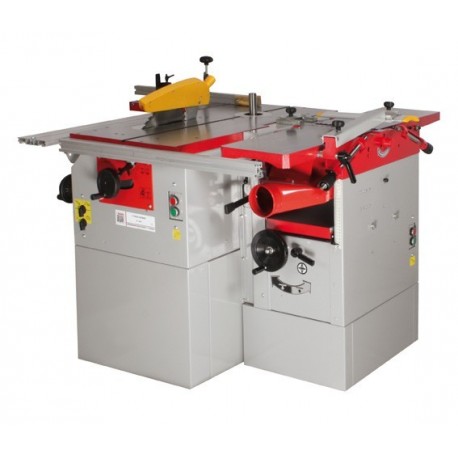  
Woodworking machine 5 operations Holzmann K5-260L - 230V
Reference: HK5260L-230V
Including €2.50 for ecotax (not impacted by the discount)
This Holzmann K5 260L Austrian wood-burning machine has cast iron tables, 3 independent motors and very interesting capacities!
Totally secure payment!

Be delivered where you want!

14 days to change your mind!
The Holzmann K5-260L wood combination offers 5 essential woodworking operations!
This is the equivalent of the F60-250 dual-block handset sold by Fox and almost the copy of Kity Bestcombi 2000 or Scheppach Bestcombi 3.0 with a jointer more important.
This is the ideal handset for the handyman who can plan, plan, saw, toast and tenon at home even in a small space thanks to its compact size!
Important recommendation from Probois for many woodworking machines such as this handset:
Before starting always check the inside of the machine, see if the belts are correctly fitted, tighten the bolts, grease the tables, etc. because the different transports cause vibrations.
Always use an extension cord of 2.5² wire size
The extension must not exceed 10 meters and must not be rolled
Provide an electrical meter with special fuses at least 16A starting
Have a standard electric meter with neutral and earth
Always work with a chip vacuum cleaner for your health and machine warranty
Always grease the cast iron tables with slip-wood
Always work with the protections in place
Do not work with blunted or dulled irons it can damage the mechanism, the advance of the planer, break the belt
The machine does not start? No doubt the chip ejector housing is poorly positioned on the planer jointer, it is a safety!
General description of the Holzmann K5-260L wood combination:
Solid gray cast iron table perfectly flat and ground for vibration-free work
Optional with mortiser (16 mm capacity)
Adjusting the saw with ergonomic ruffles
Increased ease of use with standard sliding table with aluminum guide
Emergency stop on the front for more security
Integrated chip suction hood, folding, for planing - diam. 100 mm connection
Ideal for precisely planing boards, battens and beams, etc.
Dynamic balancing milling spindle for vibration-free operation
Non-deformable planing tables in highly ribbed gray cast iron
Canned advance for alignment
Overall dimensions: 1510 x 1330 x 1120 mm
Total weight of the handset: 280kg
Technical data of each Holzmann K5-260L wood combination operation:
Planer Thicknesser:
Dimension of the tables of thickness mm: 1090 x 250
Width of planing mm: 250
Cutting diameter mm: 75
Number of irons: 3
Dimensions of the dresser table mm: 600 x 245
Planing width mm: 245
High. planing wood mm: from 5 to 195
Feed speed of wood m / min: 8.0
Speed ​​of rotation rpm: 4000
Mono or tri motor power absorbed P1 W: 2000
Mono or tri motor useful power P2 W: 1500
Circular saw:
Dimensions of the table mm: 900 x 410
Cutting width at parallel guide mm: 460
Inclination of the blade: from 90 ° to 45 °
Cutting height at 45 ° / 90 °: 50/60
saw blade diameter / bore mm: 200/30
Speed ​​of rotation rpm: 4750
Mono or tri motor power absorbed P1 W: 1260
Mono or tri motor useful power P2 W: 1100
Top:
Dimensions of the table mm: 900 x 400
shaft ø mm: 30
max. tool diameter mm: 150 / li
tool passing ø in the table: 140
Effective height of the shaft mm: 80
Speed ​​of rotation rpm: 6500
Mono or tri motor power consumption P1 W: 1400
Mono or tri motor useful power P2 W: 1000
Tenoning and sawing cart:
Dimensions of the table mm: 400 x 250
Stroke mm: 1000
Cutting depth with saw mm: 800
The mortiser is not included, it leaves you the choice to opt for the optional mortiser of this model or a mortiser with chisels to have another independent machine.
Also think of the moving kit so you can easily move your handset if it does not have a definitive place in your workshop. There is no pre-drilled location on the frame of the machine, it will be necessary to realize oneself according to the pasta of the displacement kit chosen.
Also know that you can separate in two the machine if you need to pass through a standard door.
This Holzmann K5-260L wood combination is the same machine as the Bernardo CWM250R handset: see here!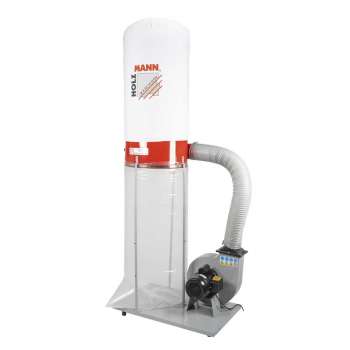 12 other products in the same category: