<< Retour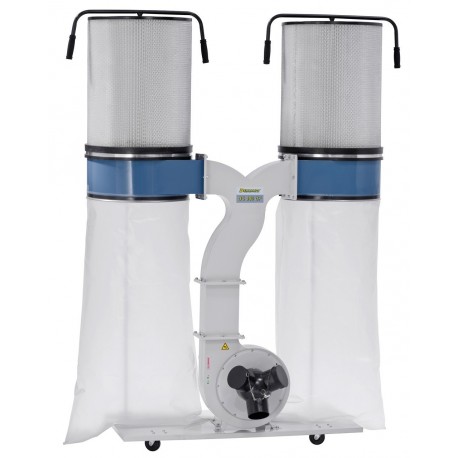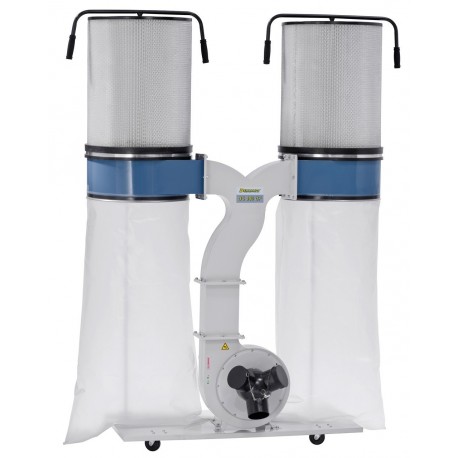  
Dust collector Bernardo DC550FC
Reference: BDC550CF
Including €2.50 for ecotax
The dust collector Bernardo DC550CF equipped with 2 FP2 filter cartridges offers a suction capacity of 4400 m³ / h and a storage of 600 liters of chips!
Totally secure payment!

Be delivered where you want!

14 days to change your mind!
A dust collector is essential in woodworking and carpentry, it sucks dust and wood chips, protects your machine ensuring its guarantee and above all protects the health of the user!
But how to make the right choice of dust collector?
The more the dust collector has a high suction flow, the better it performs. The higher the airflow, the more suitable and powerful the motor is.
For small models of woodworking machines such as planer-jointers up to 200 mm wide, small band saws, etc. .. the choice can be made on an entry-level vacuum cleaner.
On the other hand, the larger the size of the machines on which the vacuum cleaner is to be connected, the more it will be necessary to choose a dust collector with a high power. suction. For example, a planer-jointer with a width of 300 mm produces large wood chips and in large quantities, if the dust collector is undersized, unsuitable, he will not be able to extract what the machine asks him to do. the stuffing ensured, let alone the damage to the two machines!
Take note of the characteristics of this dust collector Bernardo DC550CF!
General description :
Standard with filter cartridges
Minimum size for maximum power
Ideal for vacuuming sawdust and chips
Increases the performance of woodworking machines
Solid sheet steel frame reduces static load compared to plastic enclosures
Easy change of bags thanks to the quick-release strap
Technical characteristics of this dust collector Bernardo DC550CF:
Capacity: 4400 m³ / h
Filtering surface: 8.0 m²
Low pressure max. : 1,800 Pa
Inlet diameter: 1 x 150/3 x 100 mm
Volume of the bag: 2x300 liters
Slow motion: 2.950 rpm
Output motor power S1 100%: 2.2 kW (3.0 HP)
S6 engine power input 40%: 3.0 kW (4.2 HP)
Voltage: three-phase 400V / 50 Hz
Dimension of the machine (W x D x H): 1150 x 730 x 2030 mm
Weight approx. : 67 kg
This dust collector comes with :
2 FP2 filter cartridges
2 Receiving Bags
Y adapter: 1 x 150 mm / 3 x 100 mm
Moving wheels
Supplied without hose diameter 100 mm (see optional)
No customer reviews for the moment.
16 other products in the same category: