<< Retour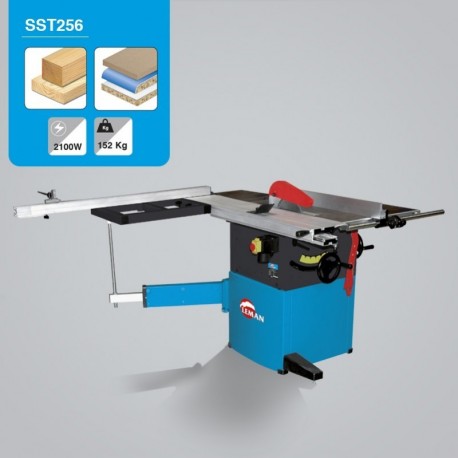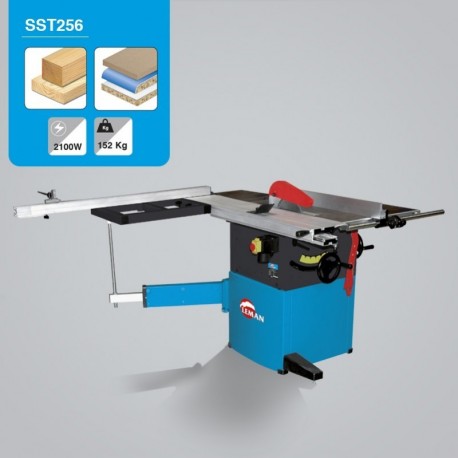  
Table saw Leman SST256 with trolley 1320 mm
Reference: LE-SST256
Including €2.50 for ecotax
Tax included
The Leman SST256 table saw is a precision saw with a 1320 mm blade-type carriage.
Totally secure payment!

Be delivered where you want!

14 days to change your mind!
Leman SST25 table saw with a powerful 3 HP engine, tough and quiet!
This machine has many other advantages, such as a frame and casing for the mechanically welded crankcase.
The other advantages of the Leman SST25 table saw:
Cast iron sawing table with right and left extension in mechanically welded.
Blade sawing trolley in aluminum with sliding on steel balls.
Aluminum slitting guide with micrometric adjustment, and knurled grip.
Edge stop for cutting wood or panels.
Large carriage table with graduated ruler and 2280 mm expandable stop.
Cleaning hatch on the crankcase cover, to remove any troublesome sawdust and wood chips.
Adjustable blade height and tilt up to 45 °, right.
Adjustment by 2 independent cranks.
Frame reinforcement stand for greater stability of the machine when machining large dimensions on the cutting carriage.
Suction outlet on the blade cover Ø 30 mm, connected to the manifold by a hose (supplied).
The machine is supplied with: the rip fence, side trolley, edging stop, 36 teeth carbide blade, table extensions, pusher, keys and instructions for use .
Technical specifications of the Leman SST25 table saw:
Motor power (230V-50Hz): 2100W - 3CV
Overall dimensions: 2260 x 2070 x 1160 mm
Speed ​​of rotation of the blade: 4060 rpm
Blade diameter: 255 mm
Bore of the blade: 30 mm
Inclination of the blade: from 0 to 45 ° to the right
Maximum cutting height: 80 mm
45 ° cutting height: 50 mm
Dimensions of the saw table + extensions (L x W): 1210 x 620 mm
Trolley dimensions (L x W): 1320 x 238 mm
Dimensions of the trolley table (L x W): 600 x 400 mm
Edging stroke with stop: 1050 mm
Max edging width: 600 mm
Suction outlet: 100 mm
Weight: 152 Kg
Package (LxlxH):
Machine: 860 x 625 x 570 mm
Trolley: 1380 x 380 x 130 mm
Trolley table: 890 x 515 x 150 mm
Table extension: 805 x 305 x 55 mm
Gross Weight: 165 Kg
15 other products in the same category: