<< Retour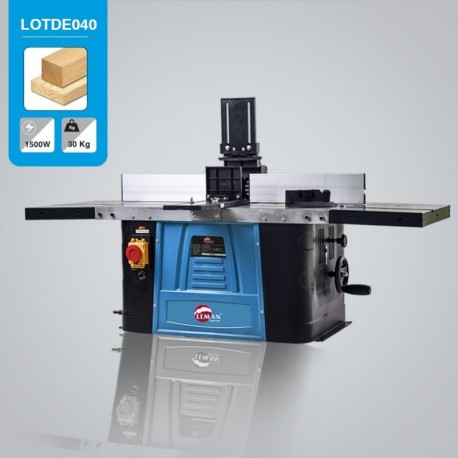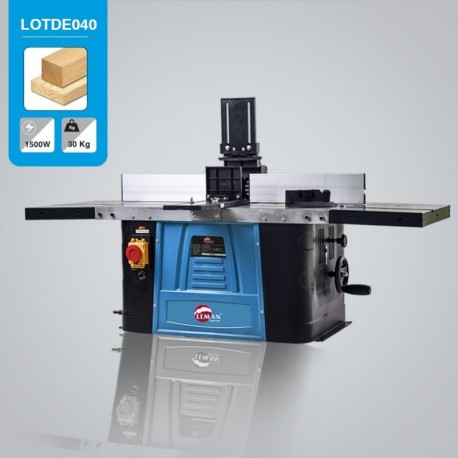  
Spindle moulder Leman LOTDE040
Reference: LE-LOTDE040
Including €2.50 for ecotax
The Leman LOTDE040 router is a milling table designed for making moldings, grooves, rabbets and wood assemblies.
Totally secure payment!

Be delivered where you want!

14 days to change your mind!
The Leman LOTDE040 table router allows you to work safely with router bits!
A power-driven router is a machine sometimes difficult to use, the work on the fly can be dangerous with a very fast machine in rotation.
This router table will remove all fears, as a router it has a table, a guide and a tree protector. Like a conventional router it is equipped with a speed variator and thanks to its different clamps provided, the range of router bits in tail of 6, 8 and 12 mm is adaptable.
You'll understand, it's an entry-level machine, for the individual who likes to "tinker", not for a professional or a connoisseur who of course will turn to a real top in order to have perfect precision.
It has a powerful 1500 watt motor and offers a height adjustment from 0.1 to 40 millimeters. Its speed is adjustable in 6 positions for a perfect adaptation to the type of work to be done.
Technical specifications of the Leman LOTDE040 table router:
Dimensions (LxWxH): 1030 x 670 x 550 mm
Variator: Yes
6 Speed ​​of rotation from 11500 to 24000 rev / min
Dimensions of the cast iron table (LxW): 610 x 360 mm
Dimensions of table extensions in mechanics (LxW): 2 x 410 x 360 mm
Overall dimensions of the worktable: 1030 x 360 mm
5 collets: 6 - 6,35 - 8 - 12 - 12,7 mm
Well diameter: 80 mm
Maximum diameter of the wick: 55 mm
Adjustment height from 0.1 to 40 mm
Working height: 315 mm
Dimensions of the guide (LxH): 700 x 75 mm
Engine 1500W - 230V
Suction outlet: 100 mm
Weight: 32 kg
1 year warranty
The Leman LOTDE040 tabletop router comes complete with: guards, 5 collets (Ø 6 - 6.35 - 8 - 12 - 12.7 mm), miter gauge, packing rings, pusher, keys, instructions for use
Information: This machine is identical to the Scheppach HF50 model.
4 other products in the same category: