<< Retour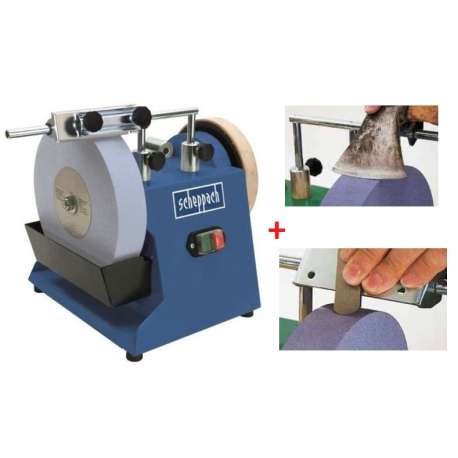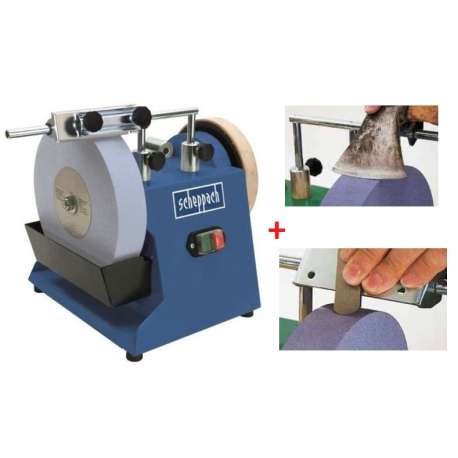  
Wet and dry sharpener Scheppach Tiger 2500 and 3 jig
Reference: SCTIGER2500+3V
Including €0.50 for ecotax (not impacted by the discount)
The Scheppach Tiger 2500 water grinder is the reference model because of its powder-coated metal housing, very stable because of its weight, its quality / price ratio is unbeatable!
Totally secure payment!

Be delivered where you want!

14 days to change your mind!
The sharpening machine water Scheppach Tiger 2500 effortlessly sharpens all your woodworking tools!
With this sharpener you can sharpen your jointer blades, kitchen knives and other sharp tools, without heating them because the stone is immersed in a bath of cold water!
This is the top-of-the-line grinding machine for water grinding machines, with a metal housing ensuring stability and a 250 mm diameter grinding wheel, it remains a formidable ally for your sharpening at home!
General description of the sharpening machine water Scheppach Tiger 2500:
Sharpener compatible with all Scheppach accessories for sharpening a very wide range of tools.
Sharpens almost as fast as a dry drum with the advantage that there is absolutely no risk of soaking the blades, even on thin or fine tools!
Engine and switch protected against splashing
Powder coated metal pan.
220 grain corundum stone of superior quality.
De-coring leather for razor-sharp edges on all your cutting tools as well as unmatched polishing.
Equipped with anti-slip feet.
Technical specifications of the sharpening machine water Scheppach Tiger 2500:
W x W x H: 350 x 360 x 420
Grinding wheel diameter 250 x 50
Corundum grinding wheel material
Leather basting disc ø 200 x 30
Mortise disc Natural leather special
Engine 230 - 240V
Absorbed power P1: 200W
P2 power output: 120W
Rotation speed: 90 rpm
Weight: 18 kg
The sharpening machine water Scheppach Tiger 2500 comes with:
Corundum grinding wheel - Stripping disc - Angle adjustment jig - Universal holder V70 + V55 + V160 - Straight edge cutter - Sharpening paste - Operating instructions - Service keys
16 other products in the same category: