<< Retour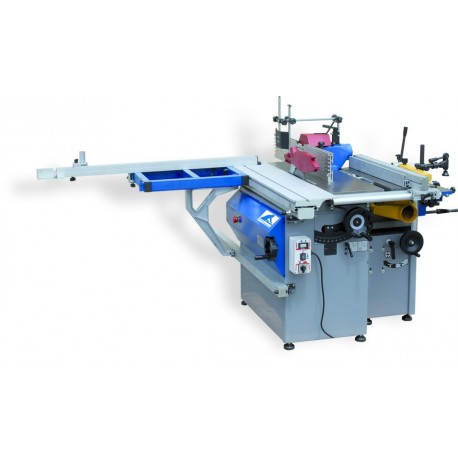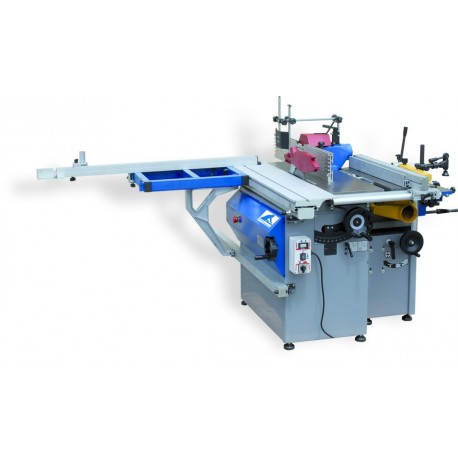  
Combined with wood Jean l'ébéniste COMB250 with 1200 mm trolley - 230V
Reference: HJCOMB250-6OP
Including €2.50 for ecotax
This combined wood Jean l'ébéniste COMB250 is perfect for the discerning amateur looking for a complete and powerful machine. A trolley 1200 mm in length is delivered with the machine.
Totally secure payment!

Be delivered where you want!

14 days to change your mind!
The wood combination Jean cabinetmaker COMB250 offers 6 essential operations in carpentry!
This is the ideal handset for the handyman and seasoned enthusiast who can plan, plan, mortise, saw, toast and tenon at home even in a small space thanks to its compact size! Some sites announce this machine in 7 operations because they detail the fact that the carriage allows the operation of the tenoning and edging (saw), like any other wood combination ...
The COMB250 woodworker cabinet comes with a mortiser, a bar guide on the router and a guide to the tree!
Important recommendation from Probois for many woodworking machines such as this handset:
Before starting always check the inside of the machine, see if the belts are correctly fitted, tighten the bolts, grease the tables, etc. because the different transports cause vibrations.
Always use an extension cord of 2.5² wire size
The extension must not exceed 10 meters and must not be rolled
Provide an electrical meter with special fuses at least 16A starting
Have a standard electric meter with neutral and earth
Always work with a chip vacuum cleaner for your health and machine warranty
Always grease the cast iron tables with slip-wood
Always work with the protections in place
Do not work with blunted or dulled irons it can damage the mechanism, the advance of the planer, break the belt
The machine does not start? No doubt the chip ejector housing is poorly positioned on the planer jointer, it is a safety!
General description of the combi cabinet Jean cabinetmaker COMB250:
Motors: 230V / 50Hz; 2Kw / 2,5CV for de-planer, 2,2Kw / 3CV for router and circular saw.
Built-in cast-iron dehulling tables allow easy access to the planing function.
Protective cover for optimum chip evacuation.
The table is held by a central steel shaft and a guide bar.
The Plow-Plane can be easily separated from the saw router for handling purposes and in a 600 mm door.
Large aluminum alignment guide for easy and precise adjustment from 45 ° to 90 °.
Retractable protective deck provides safety during machining and easy access to all 3 irons.
The tree with 3 irons gives a remarkable surface state.
Striated drive roller and anti-rejection latches.
Anti-noise Lenses Series.Reduces noise by about 10 dB (A) Laeq.
Chariot aluminum blade. Precise guidance by steel balls on steel tracks.
Adjustable incisor for smooth cutting of coated panels (laminate, melamine, veneer, plywood ...).
Stable and rigid trolley frame for formatting large panels.
Telescopic ruler with stop for: Square cut, miter cut from 0 to 45 ° and tenoning.
Tab guide with shelf 300 x 245 mm, angle from -45 ° to 45 °, expandable guide up to 700 mm attaches to the carriage.
Parallel guide in 2-position aluminum: For straight cut and angle cut from 0 to 45 °.
Easily accessible and easy-to-use control panel, ergonomic guides.
The steering wheels are equipped with a folding handle avoiding any gene.
Safety router guide with aluminum bars, horizontal and vertical press for optimum protection during machining.
Micrometric adjustment of the output guide.
Slotting mortiser, cast iron table, easy and precise adjustment. High capacity chuck (Ø16mm) type WESCOTT.
Weight: 372 kg
Technical characteristics of each handset operation Jean cabinetmaker COMB250:
Scaling - planing:
Total length tables: 1085 mm
Table width - planing width: 250 mm
Long. planing table: 600 mm
Tilt guide inclination: 0 - 45 °
Planing height: 190 mm
Diameter of the tree: 75 mm
Number of shoes: 3
Advance speed disengageable: 8 m / min
Chip taking max. dew: 4
Chip taking max. planing: 3
Rotation of the tree: 4000 rpm
Diameter of the suction nozzle: 100 mm
Working height: 1080 mm
Mortiser:
WESCOTT type mandrel 0 - 16 mm - Rotate left
Vertical table run 80 mm
Horizontal table run 160 mm
Course depth 100 mm
Table dimensions 368 x 161 mm
Toupie - tenoning:
Dimensions cast table 1080 x 300
With lacquered sheet metal extension 1325 x 300
Dimensions work surface 1325 x 300
Diameter of the shaft 30 mm
Well diameter 150 mm
Max. tool in the housing 165 mm
Race / height of the tree 130/108
3 speeds per pulley 3500 - 5500 - 7000 rpm
Sawing:
Aluminum trolley dimensions 1200 x 240
Dimensions work surface 1080 x 790
Dimensions cast table 1080 x 300
Cart frame dimensions 600 x 420
Rule expandable to 2 m
Cutting width at guide / 550 mm
Runner blade stroke 1400 mm
Diameter of the blade 250 mm
Diameter of the scorer 88 mm
Cutting height at 45 ° and 90 ° 65 and 45 mm
Blade speed 4050 rpm
Speed ​​of the scorer 6300 rpm
Also think about the travel kit so you can easily move your handset if it does not have a permanent place in your shop. There are pre-drilled slots on the frame of the machine, it will simply be necessary to fix the pasta of the dedicated displacement kit.

This wood combination Jean cabinetmaker COMB250 is actually the meeting of 2 individual machines: the jointer-planer Jean l'ébéniste ML392 with option mortise and handset toupie-scie Jean l'ébéniste TS1200I. The advantage of individual machines is that they do not have to disassemble and reassemble protectors, guides, etc. as a handset requires it when you want to go from one operation to another.
No customer reviews for the moment.
13 other products in the same category: